Stuck when using Office, Salesforce, Oracle, or G-Suite?
Poor communication in Zoom meetings?
Overseas web pages take too long to load?
As the organization grows, the cost of team communication continues to
increase! Introduce different efficiency software and collaboration software
to improve the problem of high communication costs, but still encounter new problems such as operation freeze and voice out of sync. Access through NBDnetwork's SD-WAN solution to quickly improve the operating experience.
Save time! Reduce communication costs! Let the energy be more focused!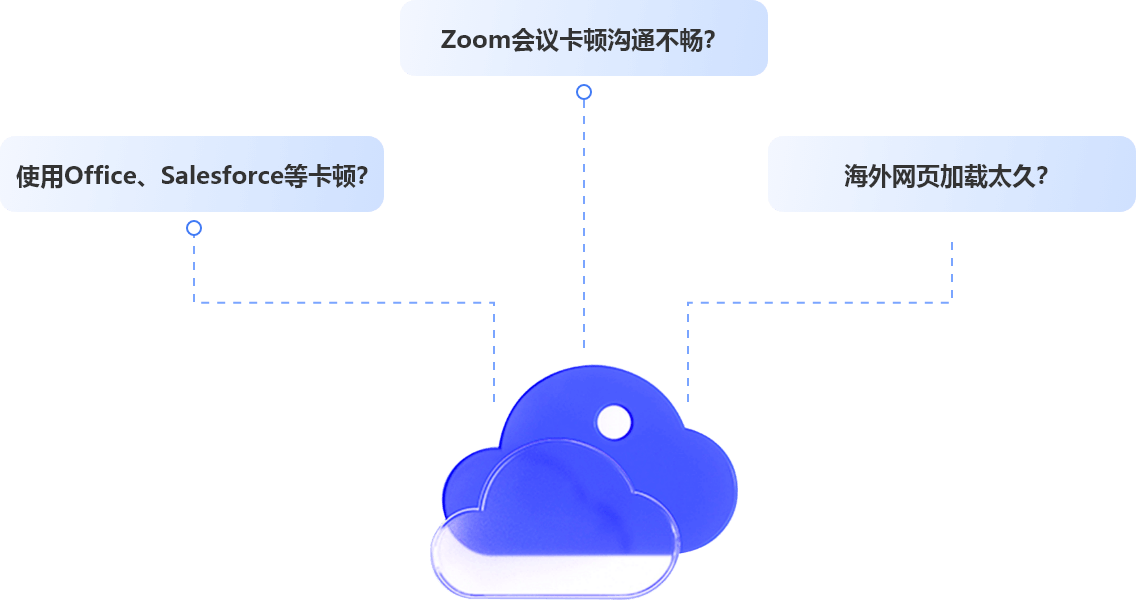 Covering mainstream SaaS application platforms
Accelerated access covering more than 1,000 mainstream SaaS applications, through DPI identification technology, to achieve application priority acceleration.
High stability - no business interruption
Multi-line aggregation, active and standby lines to achieve hot backup, dual-network, dual-standby, without interruption. QoS quality assurance.
Improve access speed - improve work efficiency
Intelligently identify, optimize the shortest and fastest route to achieve application acceleration, improve access speed, and operate without waiting for a long time.
Global coverage - easy to use
1000+ POP access points around the world, covering all provinces and cities across the country, can be used conveniently no matter where you are.
Affordable price - Flexible adjustment by volume
Pay-as-you-go, allowing flexible adjust-ments. Intelligent tiered transmission improves bandwidth utilization and saves bandwidth costs.
Simple deployment - access in 10 minutes
Plug and play, easy to deploy. No profess-ional networking knowledge is required. Support APP, box access.
1000+ POP points around the world, with access all over the country
We solve real problems with access points all over the world, quick access! Work efficiency doubled!
The technical support behind the stable acceleration of SaaS applications
Intelligent Scheduling & Routing Optimization
DPI deep packet inspection
Application recognition, intelligent slicing
SD-WAN Intelligent Scheduling & Routing Optimization
Fine-grained bandwidth management, intelligent scheduling of business communications according to different link qualities
DPI deep packet inspection technology
Apply intelligent identification, intelligent slicing, and adjust business priorities
Want to be more productive? Reduce communication costs and save time
Just dial our phone, send us WeChat, Email